fifahead:FIFA 17 Best Formation for Non-skillers
fifahead
Date: Nov/22/16 13:42:16
Views: 1485
Some game players may be new to FIFA 17 game and wonder which formation to use as a non-skiller in FIFA 17 Ultimate Team. So in this page, suggestion are given to choose the best formation.
Before you choose the formation, here are what you should know first. First, figure out your play style. Then the formation you pick should be suitable with the attributes and skills of your chosen players. And what kind of goals you would like to reach. As you are new to FUT, and don't have the familiar formation to use, below are the best formations to use.
4-2-3-1 formation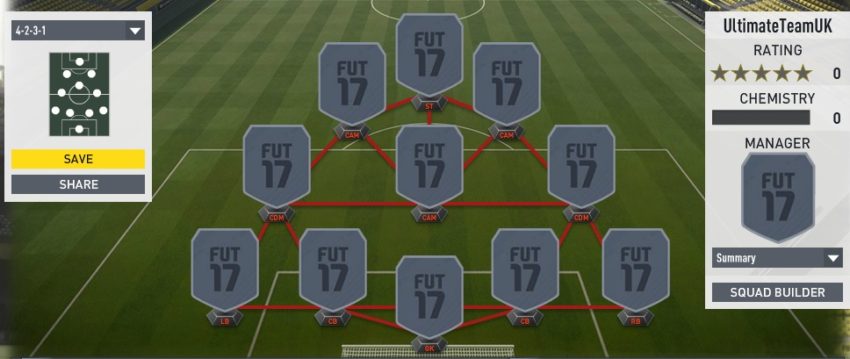 As some players suggest that with this formation, three CAM's instead of wingers, you can pass it quickly around the box with those players. With three CAM's, you have lots of attacking options. For the first way, you consider the strength and heading, that you would be possible to playing long balls up to the front for your striker to head down to one of the 3 advancing CAM's. For the striker, the high pace is considered. Then there should be a fair defence for two CDM's. It's a narrow formation, that means it can get very crowded in the attacking third with all 4 attacking players holding a central position.
3-5-2 formation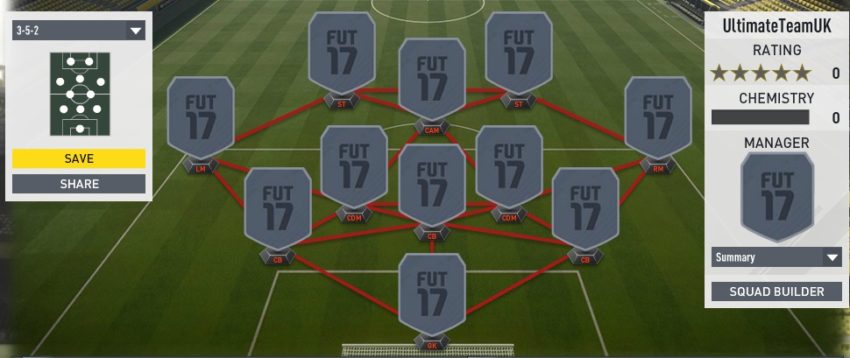 This formation is a well balanced one for defence and attacking. It is extremely effective at preventing creative play through the middle (forces opponents out wide). For non skillers, 3-5-2 formation is a try. Loads of passing options in attack, and it defends the box well too - try and ensure all three CBs have high defensive work rate and good pace. You can have tall players in all central areas, which will help you in all the 50-50 challenges so you can hold onto the ball a tad more easily (i.e. if you can't pull of an amazing skill move instead, lol). Regardless of what their strength rating is, tall players make better in 50-50s. It helps in winning headers off of opposition goal kicks as well. Although all positions are important, remember to get a strong CAM in this formation.
5-2-1-2 formation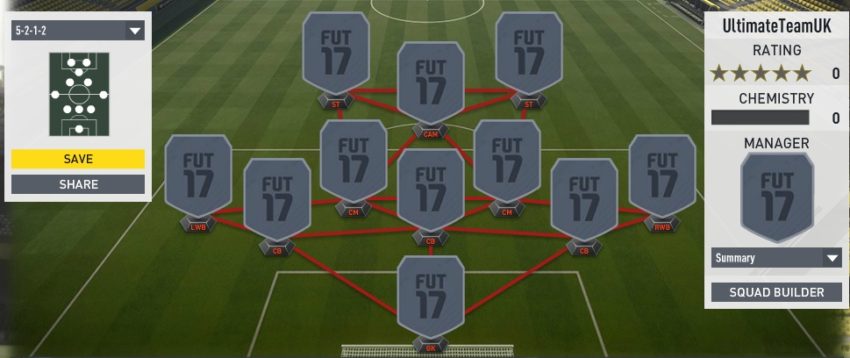 3 CB's are pretty solid so you don't get caught too much on the counter. Two strong all round CM's. One slightly better at passing/long shots the other slightly better at defensive duties. For 2 strikers, one is strong, and the other is fast - both need as good a passing stat as you can get though, particularly the strong one. Key positions are CAM - not to skill but he needs agility, great passing, a decent long shot and good vision, and full backs - they provide you width. As long as their 75+ pace, with 75+ defensive stats and good passing and crossing stats your good to go.
If you are new as a non-skiller, you might have a try. Find out your play style and take time to practice. When you want to buy in-game currency-FIFA 17 coins rather than to farm coins, you can choose us to get cheapest FIFA 17 coins. By the way, we have coupon code available on our facebook.
Anyone are welcomed to redistribute, copy, quote, reference or perform content in this site, if and only if he/she attributed the work